Changes in Annehem's organisation
Annehem Fastigheter is reorganising and changing the company's segments. The new segments will consist of Region Sweden and Region Other Nordic (Finland and Norway), formerly Region Capital and Region South. The segment change will be implemented from 1 January 2023.
Ahead of this change, Gustav Eriksson, former Head of Property Management South, has been appointed Head of Property Management for Region Sweden and he will be part of Annehem's executive management team, starting as of November 7, 2022. Region Other Nordic reports until further notice to the CEO.
"Through this new structure, we create even better conditions for coherent and efficient property management. Gustav, with his business focus, leadership skills, and experience, will also be a very valuable addition to the executive management team." says Monica Fallenius, CEO Annehem Fastigheter.
Annehem has an ambitious vision and sustainability targets. To accelerate the work a consulting agreement has been signed with Amanda Tevell, who will take the role of Interim Sustainability Manager. Amanda has over ten years of experience in both strategic and operational sustainability and will lead the company's continued work in developing and implementing the long-term sustainability targets in the business.
As of this change the Senior Executives will be:
Monica Fallenius, CEO
Jan Egenäs, CFO
Adela Colakovic, Head of Group Accounting
Gustav Eriksson, Head of Property Management Region Sweden
For further information please contact:
Monica Fallenius
CEO
[email protected]
Tel. +46 70 209 01 14
About Annehem Fastigheter
Annehem Fastigheter is a growth-driven property company specialising in commercial, community service and residential properties in the Nordic growth regions of Stockholm, Skåne, Gothenburg, Helsinki and Oslo. The property portfolio in Annehem Fastigheter consists of 25 investment properties with a value of SEK 4 252.9 million and a lettable area of 195 thousand sqm. The company is listed on Nasdaq Stockholm since December 2020 with the ticker ANNE B and have a Nasdaq Green Designation since May 2022. For more information, please visit Annehem's website www.annehem.se.
---
Filer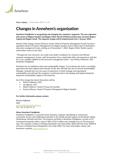 PM-221107-Eng.pdf
Om Annehem Fastigheter
Webbplats
https://www.annehem.se/
Bransch
Fastigheter
Prenumerera
Få löpande information från Annehem Fastigheter via e-post.
Handelsinformation
Marknad
Stockholmsbörsen
Kortnamn
ANNE B
ISIN-kod
SE0015221684
IR-Kontakt