Eevia Health's Board of Directors has resolved on a directed share issue of SEK 11,5 million
The Board of Directors of Eevia Health Oyj (publ) ("Eevia" or the "Company") has resolved on a directed new issue of 5,364,513 shares at a subscription price of SEK 2.15 per share (the "Directed Share Issue"), which is expected to raise proceeds to the Company of SEK 11,5 million before issue costs. The proceeds will primarily be used for working capital purposes and strengthening of the commercial organization, to be able to deliver on the growth prospects offered by the market.
The Company has resolved on a Directed Share Issue to a limited number of new institutional and professional investors as well as several existing shareholders. The Directed Share Issue was based on a book building process conducted by Partner Fondkommission ("Partner FK"). A total of 23 investors has agreed to subscribe for shares in the Directed Share Issue including among others Josi Holding AB, Tedde Jeansson, Exelity AB, Capmate AB and Vegar Holding AS.
Eevia has had a strong start of the year and at the same time working capital is needed for the Company to be able to act on current opportunities in the market. In the past, the Company has partially financed its inventory from customers, but not all customers enable this and therefore the balance sheet and working capital need to be strengthened.
The subscription price in the Directed issue corresponds to a discount of 14,7 percent from the volume weighted average price during 100 trading days between March 17, 2023, and August 11, 2023. The Board of Directors of Eevia Health considers the discount to be in line with market practice and fair given the volume weighted average price during the last months and the fact that the share price was lower than the subscription price of 2,15 SEK as recently as 20 July 2023.
The Directed Share Issue increases the total number of shares from 30,349,371 to 35,713,884. For existing shareholders, the Directed Share Issue will result in a dilution of approximately 15,0 percent. The reason for deviation from the shareholders' pre-emptive rights for the Directed Share Issue is to increase and broaden the shareholder base with qualified and long-term investors, and in a cost-effective and timely manner raise capital to improve the Company's financial position to enable the further development and growth of the Company's business. The Board is of the opinion that the Directed issue will be of benefit to the Company and, therefore, to all its shareholders.
Stein Ulve, CEO of Eevia Health:
"I want to thank all our current and new investors for their vote of confidence in Eevia Health. The capital injection will allow us to pursue the numerous opportunities we see in the market. I am more confident than ever in our ability to deliver customer as well as shareholder value and look forward to growing Eevia Health in the years to come."
AdvisorsPartner Fondkommission is financial advisor and issuing agent in Sweden. OP Bank is issuing agent in Finland.
For more information, please contact:
Stein Ulve, CEO
Email:[email protected]
Telephone: +358 400 22 5967
Joel Westerström, Partner Fondkommission
Email: [email protected]
Telephone: +46 735 11 68 53
This information is such that Eevia Health Plc is required to make it public in accordance with the EU's Market Abuse Regulation (MAR). The information was made public by the Company's contact person above on August 14, 2023, at 16:45 CEST.
INFORMATION ABOUT EEVIA HEALTH PLC
Eevia Health Plc, founded in March 2017, addresses significant health problems with bioactive compounds extracted from plant materials. The materials are primarily wild harvested from the pristine Finnish and Swedish forests near or above the Arctic Circle. The extracts are sold B2B as ingredients in dietary supplements and food brands globally. These global brands utilize the ingredients in their consumer product formulas.
Eevia Health is a manufacturer of 100% organically certified plant extracts. Although a significant product, Elderberry extract, is made from cultivated berries, most of Eevia's other raw materials, such as bilberry, lingonberry, chaga-mushroom, and pine bark, are wild-harvested in a sustainable fashion.
Eevia Health operates a modern green-chemistry production facility in Finland. Manufacturing natural ingredients near the raw material harvest areas, Eevia offers a short value chain with an environmentally friendly carbon footprint, competitive pricing, and extreme transparency. Eevia listed its shares at Spotlight Stock Market in Sweden in June 2021, with the short name EEVIA.
To learn more, please visit www.eeviahealth.com or follow Eevia Health on LinkedIn@EeviaHealth.
NOT FOR PUBLICATION, DISTRIBUTION OR RELEASE, DIRECTLY OR INDIRECTLY, IN WHOLE OR IN PART, IN OR INTO AUSTRALIA, HONG KONG, JAPAN, CANADA, NEW ZEELAND, SWITZERLAND, SINGAPORE, SOUTH AFRICA, UNITED STATES OR ANY OTHER JURISDICTION IN WHICH SUCH PUBLICATION, DISTRIBUTION OR RELEASE WOULD BE IN CONFLICT WITH APPLICABLE RULES OR REQUIRE ADDITIONAL REGISTRATION OR OTHER ACTIONS.
---
Filer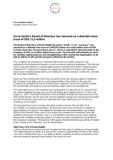 2227931.pdf
Om Eevia Health
Eevia Health targets health problems with bioactive extracts from plant material. The human body has an incredible ability to restore good health. However, sometimes the body needs active support. Our mission is to support good health and well-being with plant extracts which have scientifically documented health benefits. Eevia Health manufactures and markets organic ingredients from abundant plant material in the Arctic. Our products are targeted against low-grade inflammation, problems in eye and brain health, and metabolic effects. We collaborate with scientists in Finland and abroad to scientifically substantiate the positive effects of ingredients and also to document the safety of use.
Webbplats
eeviahealth.com/investors
Handelsinformation
Marknad
Spotlight stock market
Kortnamn
EEVIA
ISIN-kod
FI4000496658
IR-Kontakt